486
Detailid

Esmane info

Ettevõte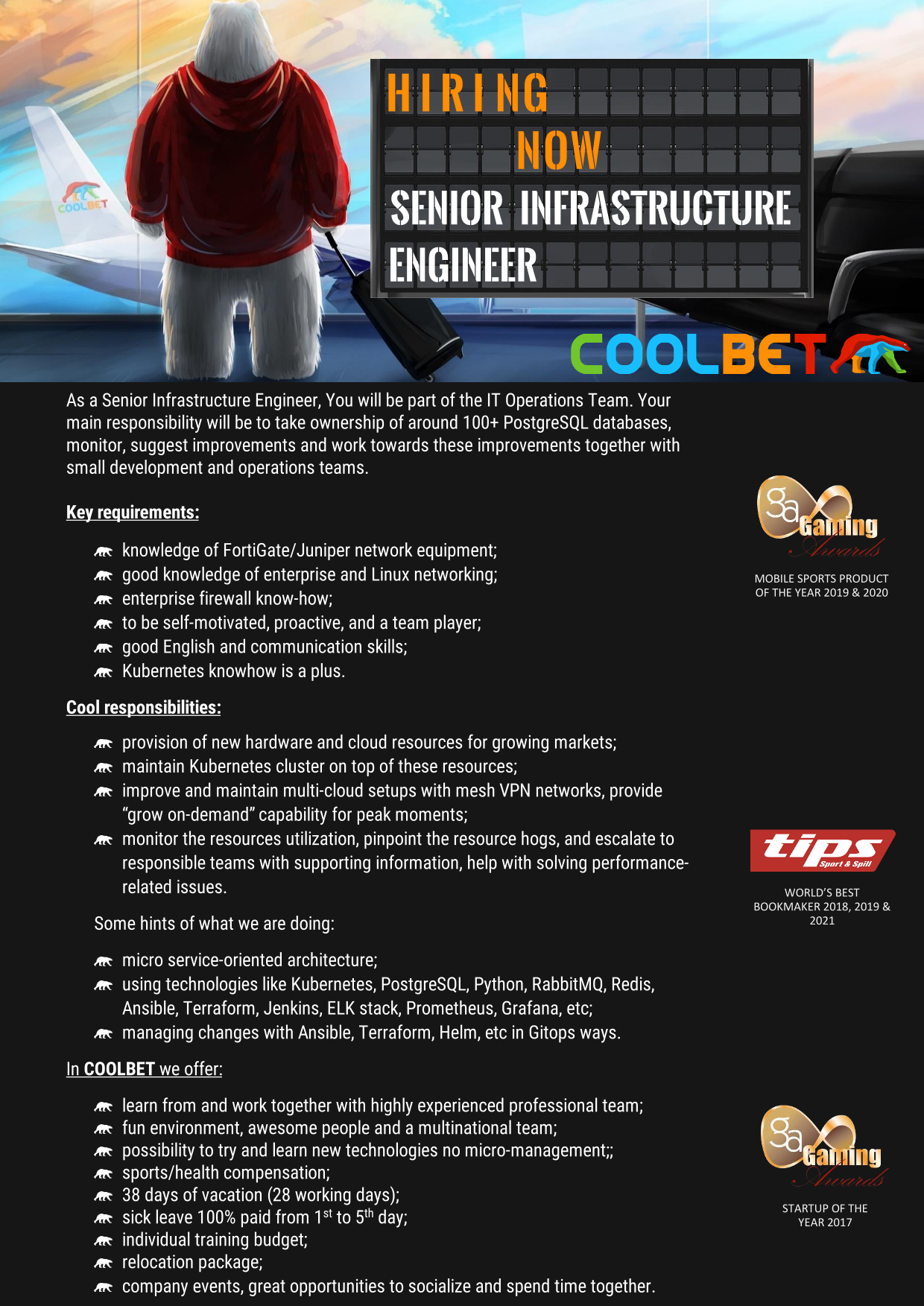 Ootused kandidaadile
WHAT WE EXPECT FROM A COOL SENIOR INFRASTRUCTURE ENGINEER
Good knowledge of enterprise and Linux networking.
Knowledge of Fortigate/Juniper network equipment.
Enterprise firewall know-how.
To be self-motivated, proactive, and a team player.
Good English and communication skills.
Kubernetes knowhow is a plus.
Tööülesannete kirjeldus
THE COOL ROLE
As a Senior Infrastructure Engineer, You will be part of the IT Operations Team. Your main responsibility will be to act as a private cloud provider for DevOps and Developers. Starting from choosing the physical location of the site and ending with providing highly available Kubernetes cluster and network infrastructure.

COOL RESPONSIBILITIES
Provision of new hardware and cloud resources for growing markets.
Maintain Kubernetes cluster on top of these resources.
Improve and maintain multi-cloud setups with mesh VPN networks, provide
"grow on-demand" capability for peak moments.
Monitor the resources utilization, pinpoint the resource hogs and escalate to responsible teams with supporting information, help with solving performance-related issues.
Some hints of what we are doing:
*microservice oriented architecture;
*using technologies like Kubernetes, PostgreSQL, Python, RabbitMQ, Redis, Ansible, *Terraform, Jenkins, ELK stack, Prometheus, Grafana, etc;
*managing changes with Ansible, Terraform, Helm, etc in Gitops ways.
Omalt poolt pakume
IN COOLBET WE OFFER
Learn from and work together with a highly experienced professional team.
Fun environment, awesome people, multinational team.
A large degree of independence, no micro-management.
Possibility to try and learn new technologies.
Flexible working schedules.
38 days of vacation (28 working days).
Sick leave 100% paid from 1st to 5th day.
Sports/health compensation.
Company events, great opportunities to socialize and spend time together.
Trial and regular yearly performance reviews.
Relocation package.
Individual training budget.