Detailid

Esmane info

Ettevõte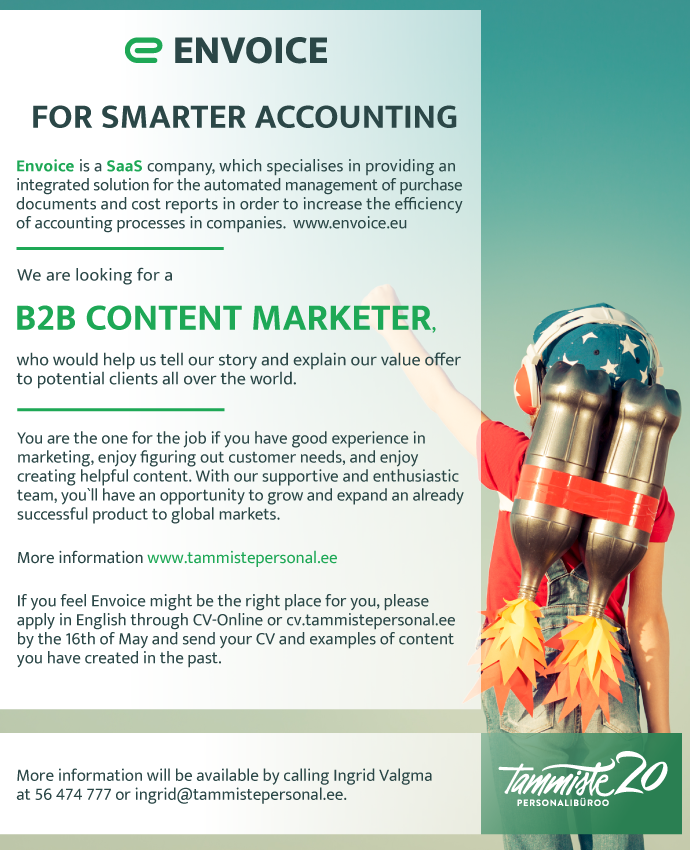 We are looking for a
B2B Content Marketer

who would help us tell our story and explain our value offer to potential clients all over the world. Our customers are mostly bookkeeping offices and SME-s who need help in reducing time and costs regarding bookkeeping-related paperwork. By joining our supportive and enthusiastic team you`d be the first marketer at Envoice.

Our plan in the upcoming years is to launch our product globally and we believe creating smart and useful content for our potential clients is the way to do it. Whether it is creating useful blog posts, how-to guides, white papers, case studies or putting together webinars, we believe in understanding our customer needs and offering solutions to their challenges via useful content.

If you enjoy figuring out customer needs via interviews or surveys and enjoy creating helpful content, Envoice is the right place for you.

Our only requirements are:
Good experience in marketing
Knowledge of how to use SEO to write content that people want to read and are able to find
Excellent writing skills in EnglishDesire to learn and improve
It is helpful if you have experience in international marketing and in user research as a user-centric approach to content marketing is important.

We will help you get acquainted with the product and offer you training in other areas of marketing if necessary.

Joining with us you can enjoy:
Competitive salary + future bonus opportunities
The freedom to create and test out your creative marketing ideas
Having an impact to save people's time where technology can do better
Opportunity to grow and expand an already successful product to global markets
Supportive team members and fun team events
Sports and other activity compensation
Trainings and seminars on your choice