551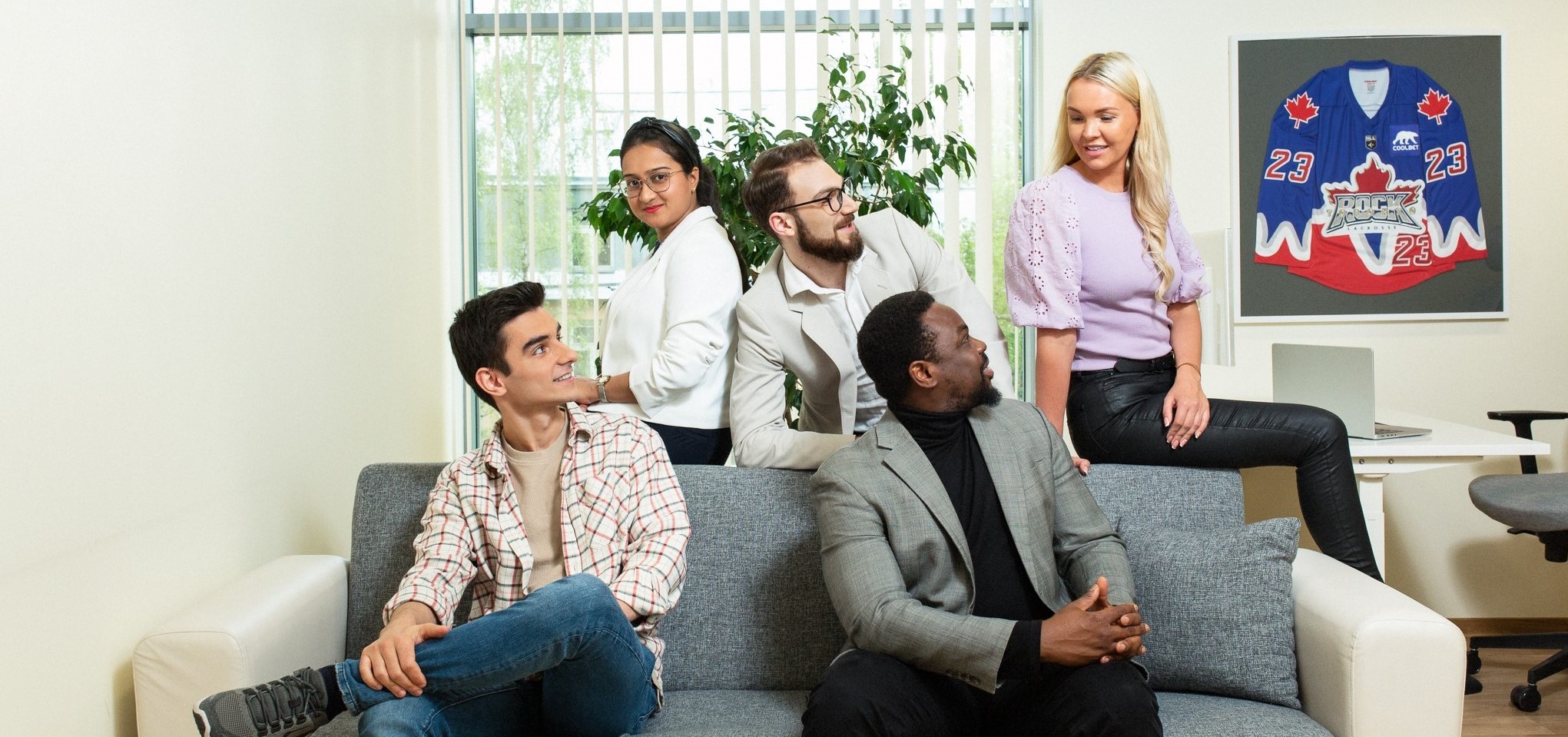 Detailid

Esmane info

Ettevõte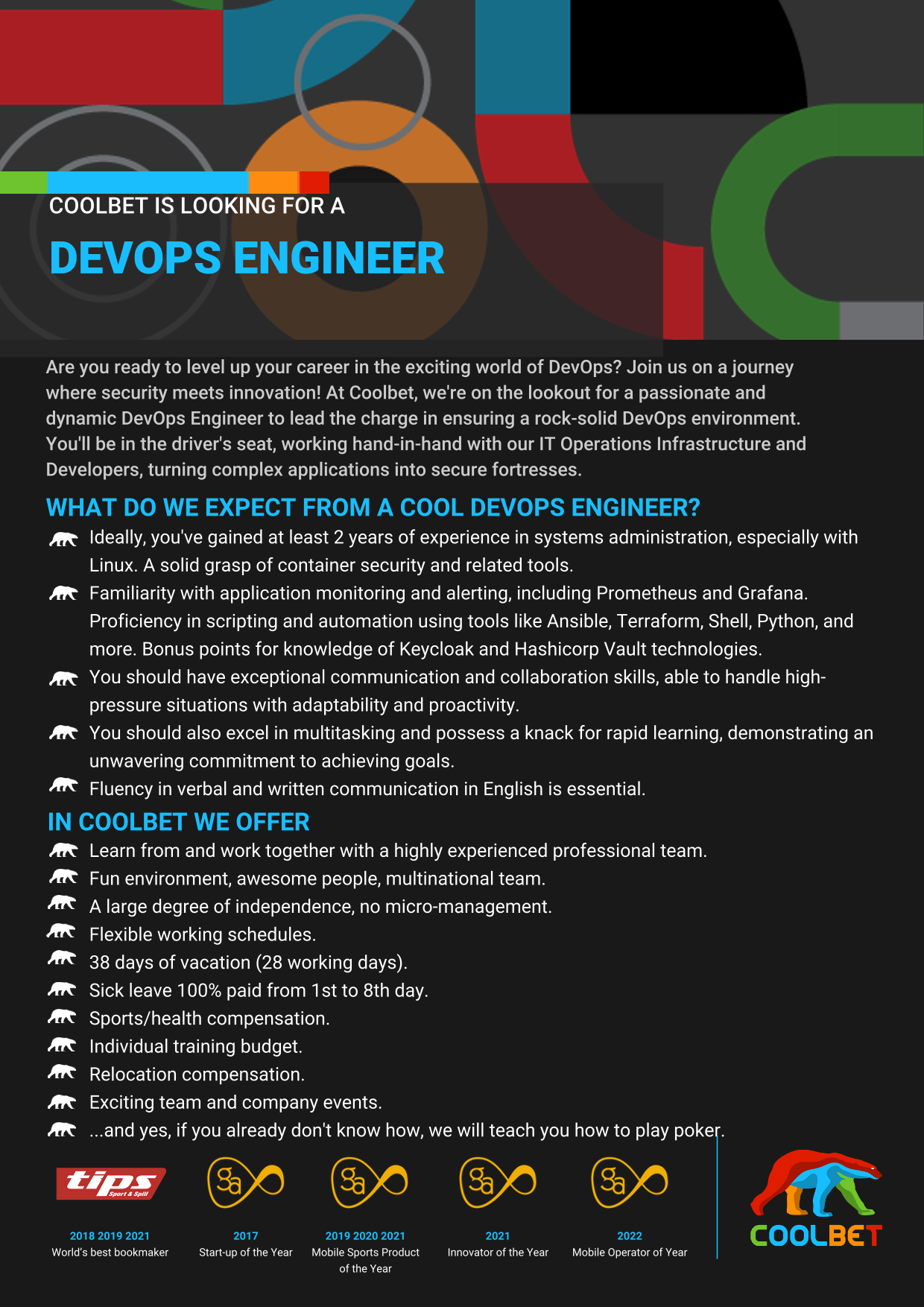 DevOps Engineer
YOUR COOL ROLE
🚀 Are you ready to level up your career in the exciting world of DevOps? Join us on a journey where security meets innovation!🔐 At Coolbet, we're on the lookout for a passionate and dynamic DevOps Engineer to lead the charge in ensuring a rock-solid DevOps environment. You'll be in the driver's seat, working hand-in-hand with our IT Operations Infrastructure and Developers, turning complex applications into secure fortresses.
💡 Your mission? Implementing and nurturing the best security practices while building and scaling applications with a laser focus on security. You're the superhero armed with container orchestration tools like Kubernetes and a knack for logging/monitoring tools.
YOUR COOL RESPONSIBILITIES
Undertake the pivotal role of safeguarding application security. Work with our CI/CD initiatives, ensuring seamless application deployments.
Elevate our security posture by enhancing monitoring and alerting systems. Expertly configure and optimize containers and applications.
Apply scripting expertise in bash, and Python to streamline processes.
Ensure uninterrupted application operation and minimize downtime. Employ analytical skills to identify and resolve recurring issues at their root. Manage system software upgrades to keep our infrastructure current.
Strategize, test, monitor, and document comprehensive backup and recovery scenarios. Develop and maintain automation tools and scripts to optimize workflows.
Evaluate and recommend innovative tools and technologies. Contribute to our knowledge base by crafting and maintaining thorough documentation.
Demonstrate flexibility by being available outside of regular working hours when necessary.
WHAT DO WE EXPECT FROM A COOL DEVOPS ENGINEER?
Ideally, you've gained at least 2 years of experience in systems administration, especially with Linux.
A solid grasp of container security and related tools.
Familiarity with application monitoring and alerting, including Prometheus and Grafana.
Proficiency in scripting and automation using tools like Ansible, Terraform, Shell, Python, and more.
Bonus points for knowledge of Keycloak and Hashicorp Vault technologies.
You should have exceptional communication and collaboration skills, able to handle high-pressure situations with adaptability and proactivity.
You should also excel in multitasking and possess a knack for rapid learning, demonstrating an unwavering commitment to achieving goals.
Fluency in verbal and written communication in English is essential, as it's our primary means of interaction.
IN COOLBET WE OFFER
📚 Learn from and work together with a highly experienced professional team.
🤸 Fun environment, awesome people, multinational team.
👐 A large degree of independence, no micro-management.
🏡 Flexible working schedules.
🏝 38 days of vacation (28 working days).
🏥 Sick leave 100% paid from 1st to 5th day.
🚴 Sports/health compensation.
🎓Individual training budget.
🤹Exciting team and company events.
🌍 Relocation compensation.
..and yes, if you already don't know how, we will teach you how to play poker.
RECRUITMENT PROCESS
Interview - Home Assignment - Second Interview - Police record, and background check - Offer
Start date: ASAP
Recruiting from within the EU
We are an equal-opportunity employer, and we value diversity. Our diverse backgrounds, experiences, characteristics, and traits make us better at serving customers. So please, come as you are!
LOCATION
Tallinn, Estonia
Coolbet is an award-winning sportsbook, online casino, and poker provider with a presence in 10 countries on 3 continents holding 4 gaming licenses. Together with GAN Limited, the company is set forth to become a dominant supplier in the USA markets. Our office is located in the center of Tallinn, Estonia, with 400+ employees from more than 50 countries. Coolbet's goal is to deliver the best gaming solutions possible by continuously focusing on product development and innovation while creating a new industry standard for responsible gaming.
Selle ametikoha keskmise palga info leiad aadressilt palgad.ee.
Lisahüved:

 additional vacation days, sports/health compensation, flexible schedule, individual training budget, and sick leave compensation from the 1st day.
Asukoht
Tallinn, Harjumaa,

Eesti


Kai 4
Tööaeg
Täistööaeg
Paindlik tööaeg
Are you tired of working for a company that's as exciting as watching paint dry and you want to try something new? Look no further than Coolbet! Join Coolbet, the innovative iGaming company that's taking the world by storm! We've got more than 400 talented and passionate employees from over 50 countries, all working together to deliver the best gaming experience possible.
At Coolbet, we believe in taking risks, sharing ideas, and owning our work. We're not afraid of change, because we know that our customers are at the heart of everything we do. That's why we strive to be the fairest, most personal, and most transparent gaming site in the industry.
But it's not all work and no play! We've got a fantastic atmosphere that's fun, creative, and full of energy. Whether you're brainstorming new ideas with your team or bonding over a game of ping pong, you'll love being part of the Coolbet family. We offer a fantastic working environment and various activities such as an annual seminar, team events, Friday Beers, and poker nights to keep our employees engaged and connected.
And the best part? We're growing fast and looking for new talent to join our team! Whether you're a seasoned pro or just starting out, we've got opportunities for everyone. So why not take a chance to apply now to take part in our new adventure and discover why Coolbet is the place to be? With our unique blend of innovation, responsibility, and fun, you'll never want to leave.
---
Sarnased töökuulutused:
Senior Web App/HTML5 Developer

Test Automation Engineer - from Estonia

Senior Android Software Engineer