1876
Detailid

Esmane info

Ettevõte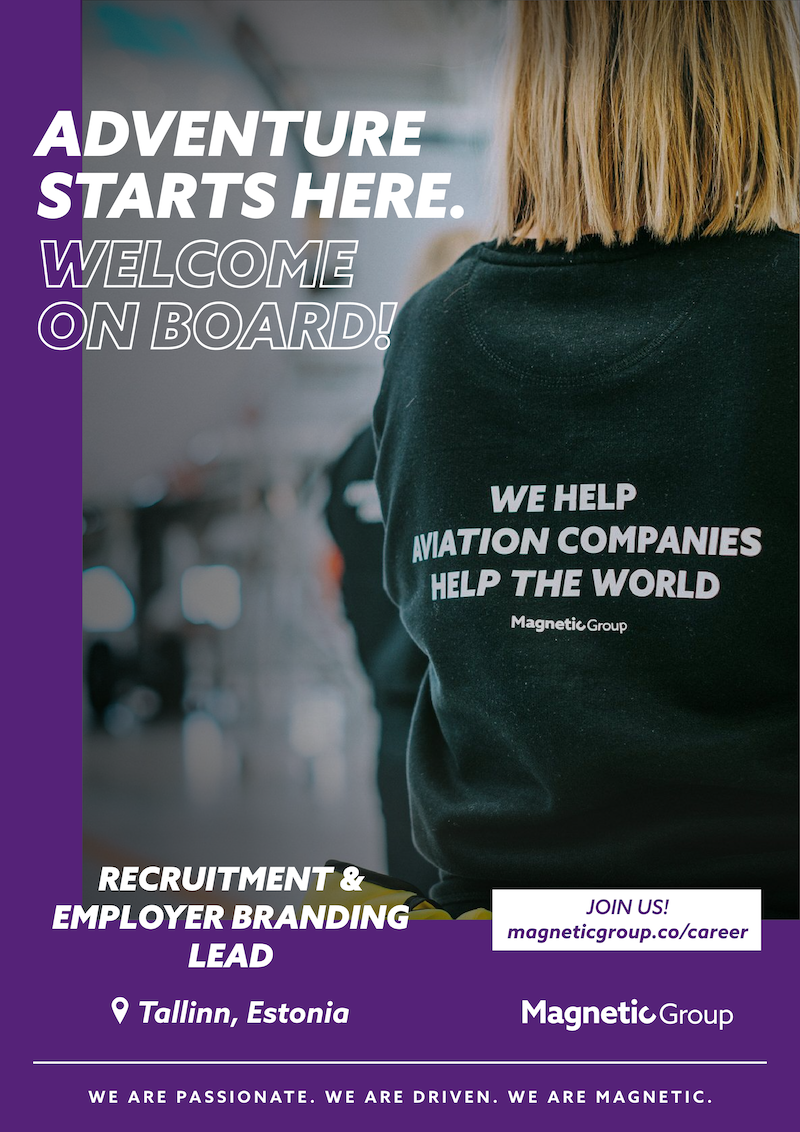 Magnetic Group is a dynamic and innovative aviation company committed to excellence and growth. We are on a mission to help aviation companies help the world. Our success is driven by our talented team, and we're looking for a Recruitment & Employer Branding Lead to help us attract, engage, and retain top talent while strengthening our employer brand.
As a Recruitment & Employer Branding Lead, you will play a pivotal role in shaping our talent acquisition strategy and building a compelling employer brand. You will lead the recruitment process end-to-end, ensuring we attract and hire exceptional individuals who align with our values and goals. Additionally, you will design and execute strategies to enhance our employer brand's visibility, reputation, and desirability in the market.
As a Recruitment & Employer Branding Lead, you will have an integral role in recruitment and employer branding activities:
Recruitment:
Develop and implement a comprehensive recruitment strategy to meet the company's talent needs.
Manage the full recruitment lifecycle, including job posting, sourcing, screening, interviewing, and onboarding.
Collaborate with hiring managers to define job requirements, create job descriptions, and set interview criteria.
Proactively source and engage with top-tier candidates through various channels, such as job boards, social media, and networking events.
Build and nurture a pipeline of qualified candidates for current and future job openings.
Conduct interviews, assess candidate suitability, and provide recommendations to hiring managers.
Continuously evaluate and improve the recruitment process, ensuring efficiency and effectiveness.
Stay updated on industry trends and best practices to remain competitive in talent acquisition.
Employer Branding:
Develop and execute a comprehensive employer branding strategy to showcase our company culture, values, and work environment.
Collaborate with marketing and communications teams to align employer branding efforts with the overall brand strategy.
Plan and organize employer branding events, such as career fairs, webinars, and workshops.
Build relationships with universities, industry associations, and external partners to strengthen our employer brand in the wider community.
Collect and analyze data and feedback to measure the effectiveness of employer branding initiatives and make data-driven improvements
To be successful in this role, you should have:
Bachelor's degree in Human Resources, Business Administration, or a related field (Master's degree preferred).
3 + years of experience in recruitment and talent acquisition, with a proven track record of successfully hiring top talent.
Proven experience in employer branding, marketing, or related roles.
Strong understanding of current recruitment trends, technologies, and best practices.
Exceptional communication and interpersonal skills.
Creative mindset with the ability to think outside the box and develop innovative employer branding strategies.
Proficiency in using recruitment software, applicant tracking systems, and social media for talent sourcing and employer branding.
Strong analytical skills to track and measure the impact of recruitment and employer branding efforts.
Ability to work independently and collaboratively in a fast-paced environment.
B-category drivers license
When joining us, you will get:
An exciting career in the aviation sector.
Way too cool, fast-paced, and international work environment.
A great team with diverse backgrounds.
A culture of trust that empowers you.
A range of perks like health insurance, company events, movie nights, and more.
Selle ametikoha keskmise palga info leiad aadressilt palgad.ee.
Asukoht
Tallinn, Harjumaa,

Eesti


Väike-Sõjamäe 1A, 11415
Kontaktisik
Ene Krinpus
+372 53406082
Magnetic MRO is a Total Technical Care maintenance and asset management organization with a global presence and two decades of worldwide experience. The company has a well-established reputation in innovative solutions in digitalized MRO services and a proven track record as a one-stop total technical care organization for airlines, asset owners, OEMs, and operators. Magnetic MRO has more than 15 locations around the world in respect of new business units, company acquisitions, international partnerships as well as warehouses and outstations launched internationally.
Sarnased töökuulutused:
HR Administrative Assistant

Crypto Operations Analyst

Customer Support Ambassador